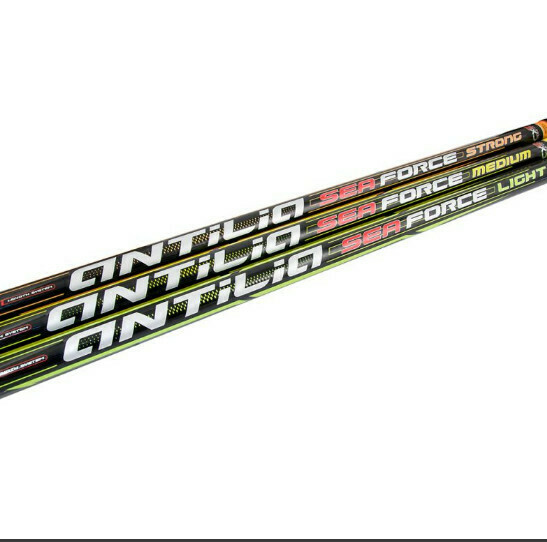 Antilla Sea Force Strong 4.0m 5.0m Competition telescopic boat rod
SKU 00637
Product Details
Competition boat fishing is undoubtedly one of the most technical and sophisticated segments in the saltwater world. The user's needs are very specific, and high-level anglers only demand the very best from their equipment.
The Antilia Sea Force series is destined to that special category of "hi-level anglers", and represents the non plus ultra in terms of bolentino rods.
Developed thanks to the cooperation of our champions who, every year, put the Trabucco equipment under hard test on the seas all over the world, the series exceeds each previous model with a range of unique features. Impeccable tools, robust but lightweight thanks toCX2 Nano Tek carbon with low incidence of resins.
The tests on the components have been very careful and precise, and this has provided them with SiC Sea Guide double leg guides with K profile frame and anti-corrosion PVD treatment, destined to live forever in conditions of high salinity.
Particular attention has also been paid to the realization of the two interchangeable fiberglass tips, which meet the needs of the most technical angler and enable him to tackle any fishing condition from the boat. Designed for competition, however, these rods are also the best for amateur fishing of Gilthead Bream, Sea Bream, Common Pandora, Black Seabream, but also, using the Strong version, of Dentex. The 5-meter length with 4-meter adjustable length block (Multi-Length System) allows you to fish even with bolentino rigs designed with very long hooklinks and this increased length, as everybody knows, has always increased the number of bites and catches.
We recommend Light and Medium versions also for light-drifting Bonito's fishing.
The three actions that make up the series are immediately identifiable, thanks to the different color of butt section's decorations and guide's wrappings
Save this product for later