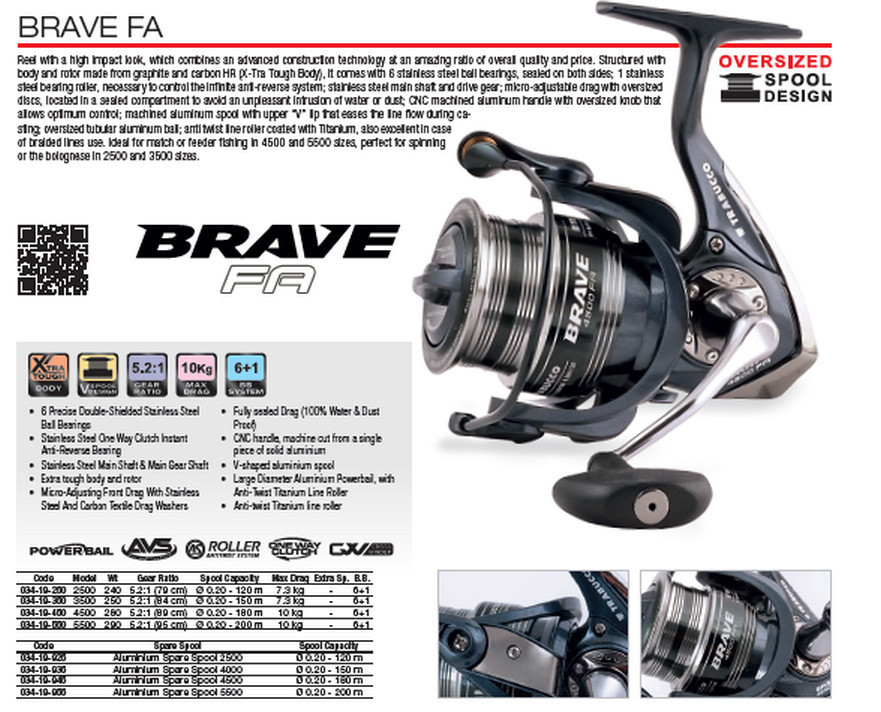 BRAVE FA 5500 FEEDER REEL
SKU 00627
Product Details
Reel with a high impact look, which combines an advanced construction technology at an amazing ratio of overall quality and price.
Structured with body and rotor made from graphite and carbon HR (X-Tra Tough Body), it comes with 6 stainless steel ball bearings, sealed on both sides; 1 stainless steel bearing roller, necessary to control the infinite anti-reverse system; stainless steel main shaft and drive gear; micro-adjustable drag with oversized discs, located in a sealed compartment to avoid an unpleasant intrusion of water or dust;
CNC machined aluminum handle with oversized knob that allows optimum control;
machined aluminum spool with upper "V" lip that eases the line flow during casting;
oversized tubular aluminum bail;
anti twist line roller coated with Titanium, also excellent in case of braided lines use.
Ideal for match or feeder fishing in 4500 and 5500 sizes, perfect for spinning or the bolognese in 2500 and 3500 sizes.
034-19-550 5500 290 5.2:1 (95 cm) Ø 0.20 - 200 m 10 kg - 6+1
FA5500

Max Drag: 10kg
Line capacity: 0.20mm - 200m
SPARE SPOOLS £9.00 EACH ON REQUEST
Save this product for later