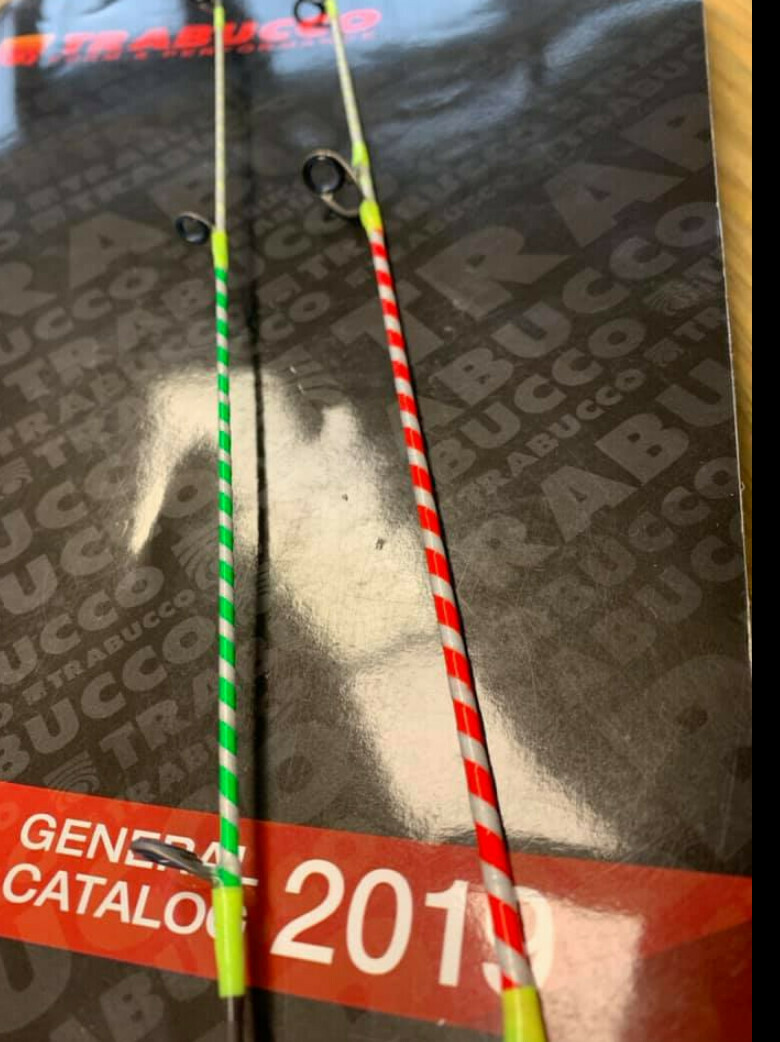 Cattura Beach XC with 3 sensitive tips available ex italy to special order new 2020
SKU 00064
Product Details
CATTURA XC latest model new 2020
available to order ex Italy... NOW !!

A new range of pure Beach Ledgering rod, designed in co operation with Michele Nardi. It is actually a complete new design for most famous of our Beach Ledgering rods, built using the new CX-2 Nano LRC Carbon, a low resin carbon material.
A further step ahead to the absolute perfection!
Extremely slim yet responsive and powerful blank (Fast reaction blank)
• Butt section and part of second section made with Twist Free
technology to contrast torsion, improving casting distance and
accuracy
• 45° carbon sheet on joints to achieve a perfect action curve (X Joint),
with Woven Carbon protective layer
• Slick Surface Blank outer finish that repels moisture and water drops,
thus avoiding line sticking
• Interchangeable solid carbon tips to adapt sensitivity to fishing
conditions, with high visibility tape
• A special rough finish has been applied to the joints to provide grip
during the assembly and dismantling operations
• New superlight Fuji Fazlite guides with tangle free K profile stainless
steel frame
• Each guide is fixed by double wrapping to seal the feet against
corrosion and salt
• Stainless steel Fuji NS7 plate reel seat, wrapped on to a segment of
soft rubber grip
• Exclusive butt grip made from ribbed rubber, with round butt cap to
ensure a good grip during the cast
Using this special material we succeeded to get better in casting and retrieving performance. The best reel sizes to match this model are the 5000 and 6000, but the shorter model can be paired very well with a 4000, the highlight the light weight of the blank.
The super sensitive green tip and the yellow one have been designed to be used without any shock leader tied to your spooled line, while the red tip has been designed for casting heavier leads and thus allowing the use of the shock leader.
The new Cattura has been equipped with Fuji
FAZLITE GUIDES
The guide assembly made by Fuji Alconite is the very best on the market! The stainless steel frame supported by Alconite stone (hard and perfectly smooth) provides the best slip of the line.
Reel Seat
On the MN range, we selected only the best components and as reel seat we used the ultra reliable Fuji Dnps gold label, entirely built by graphite it offers a great strength, ergonomic and designed to last longer.
Butt Cap
The butt end cap is a feature that many don't consider. But in fact it helps all the operations during the casts or when fishing and additionally it has the function to protect the butt end. We've designed also special rubber caps also for the inner sections to prevent any damage during the transport.
Solid Tips
Three tips are supplied with the rod:
• Green: Super sensitive for pier fishing
• Yellow: Super calibrated for fishing without shock leader
• Red: Tougher action for shock leaders use
Save this product for later