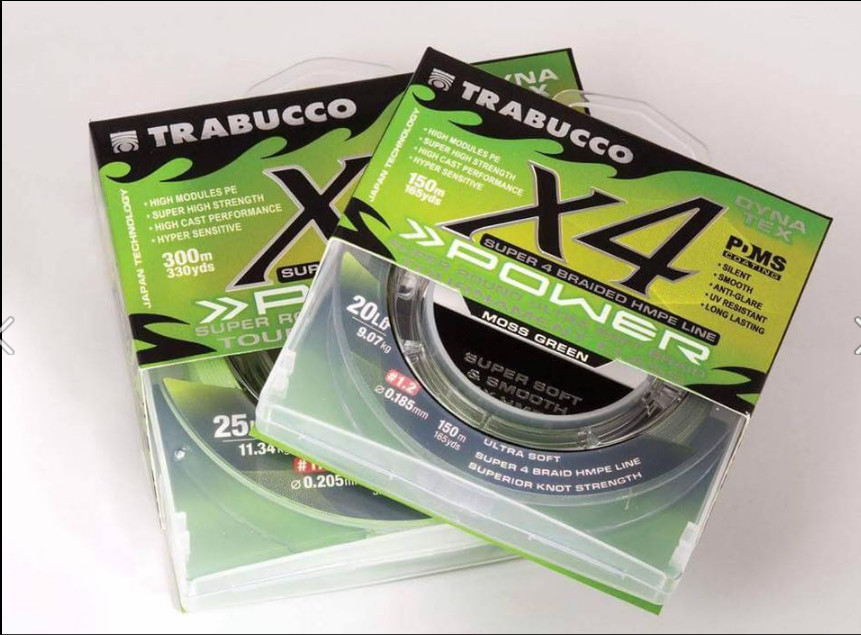 Dynatex X4 HMPE Braid for Ultralight lure fishing . lime yellow .063 to .185 available
SKU 00435
Product Details
Dynatex X4 is 100% brand new braided line HMPE, brand new high modulus polyethylene. Each strand is coated with a special treatment called PDMS, to emphasize the fantastic performance of this braid.
Available in rolls of 150 and 300 in two colors and a wide range of diameters, from 0.063mm to 0.435mm for a breaking strength of 75lb!
Available now in 0.063 lime yellow for ultralight lure fishing
In recent times, around the world the growth in the use of braided lines stopped being progressive,
experiencing a leap that has led many users of nylon monofilaments to discover new opportunities and
unexpected emotions. But too often the satisfaction has been followed by disappointment due to relatively
short life of too many lines proposed as wonderful. Finally, Trabucco X4 Power puts the point and
wraps history, drawing a new reality and a bright future with its outstanding physical properties. But
the High Modulus Polyethylene (HMPE) could not do any miracles, without the flexible armor provided
by the Japanese technology, which industrial chemists call PDMS. That's why X4 Power is also offered
in a diameter of 0,063 mm, which would be exposed to high risk without that special skin. If the 4
strand structure enables the achievement of a reasonable price level, at the same time it ensures
sufficient strength to land most of the existing fish in fresh and saltwater. Assuming
the width of expected scenario for X4 Power, the product has been developed
in two different colours. The spool's packaging is clever and practical,
because the line can be loaded on the reel's spool without opening it.
Save this product for later