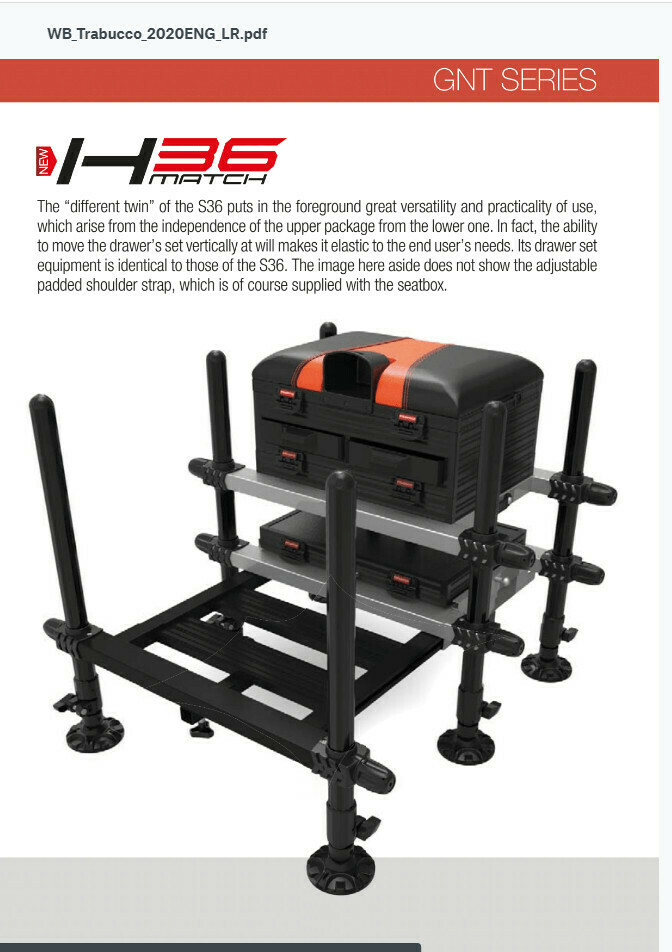 GNT 36 MATCH SEAT BOXES NEW 2020 S36 Match and S36 Match special introductory offer
SKU 00660
Product Details
2 New Boxes for 2020
First look here
MORE COMPACT AND LIGHTER THAN X36 giving great flexibility but with great strength

S36 and H36 SEATBOXES
The state-of-the-art Trabucco GNT 36 Match seatboxes, which flank the GNT X36 top range with more compact and lighter boxes
High-strength aluminium alloy tubular frames play the dual role of giving stability to the whole system and giving it a high-impact look.
The cushions are very well refined , padded by the latest generation's gel to offer the highest comfort even after hours and hours of use, but also finely sewn as t he seats of luxury cars and enriched with the embroidered logo.
The legs have a diameter of 36 millimeters to accept all the universal a cces sories of the Connect range and Clamp On range.
The large modularity of the drawers and modules gives the most demanding user the opportunity to customize the seatbox, with spaces for match rigs or feeder accessories, even going so far as to modify it o ver the seasons, possibly reducing its capacity in the cold months, when the commercial lakes dominate the scene.
With its overhanging structure, it is a fine design object and a terrific exercise of technology, but at the same time it is a reliable fishing mate, to be brought into the match circuit to stand out from the mass of users of normal seatboxes. With its standard set of drawers it satisfies everybody, but on the lower floor there is room for some personal addition.
The image here aside does not show the padded shoulder strap, which is still supplied with the seatbox

S 36 features 6 legs in a strong structure with telescopic legs all round and a drew unit
The H36 has a movable base so it is lighter and more compact
. The "different twin" of the S36 puts in the foreground great versatility and practicality of use, which arise from the independence of the upper package from the lower one.
In fact, the ability to move the drawer's set vertically at will makes it elastic to the end user's needs.
Its drawer set equipment is identical to those of the S36.
The image here aside does not show the adjustable padded shoulder strap, which is of course supplied with the seatbox
FEATURES
The 36 mm legs accept all accessories from the Connect and Clamp On ranges.
On their head, an elegant and practical rounded cap.
The seat cushion of both models is padded with high stability gel and finely customized by
a two-colour's embroidered logo.
The innovative leg's connection block works by pulling, with a non-marking device that avoids
causing any leg's scratches.
The front shell destined to support the pole's butt end is made from thick rubber with a balanced ratio of elasticity to resistance.
An orthogonal bubble level system allows the seatbox to be placed on any ground, avoiding lumbar tension's pains for the end user.
The frame of both models is designed to easily connect the Trolley Kit (item number 116-11- 010, available as an optional).
Six telescopic legs are a remarkable asset to adapt these seatboxes to the most bumpy of the banks and even to place it directly into the water
Save this product for later