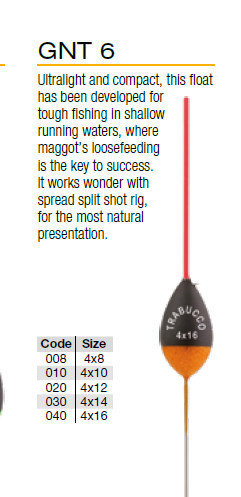 GNT 6 FLOATS 4 X10 4 X 8
SKU 00560
Product Details
range of GNT floats has been developed for the
advanced match angler, with shapes, sizes, components,
paints and details widely tested through the
personal experience of Maurizio Fedeli and Luigi Sorti.
In the Italian scenario, the growing importance of Bream
has matured a higher attention to the rig's structure
and, inevitably, to the float's sensitivity as well. Such
strong specialization has contaminated the commercial
carp environment, where the bad manners are rapidly
disappearing for evident inferiority. Finally, the growing
influence of bonus fish, which often break the boring
silver fish pace, has made necessary the development
of inline floats, which protect the line as no other can
do. These phenomena have inspired the design of the
new series, up to characterize them one by one with a PRECISE FOTPRINT
GNT 6
Ultralight and compact, this float
has been developed for
tough fishing in shallow
running waters, where
maggot's loosefeeding
is the key to success.
It works wonder with
spread split shot rig,
for the most natural
presentation.
PLASTIC WITH WIRE STEM.
Save this product for later