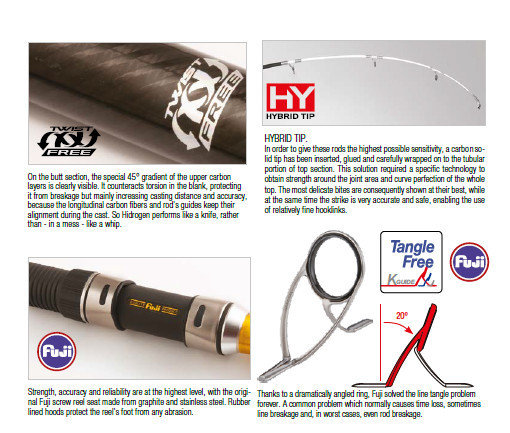 HIDROGEN SKYRACER SURF-R 420 250g new 2018 available now intoductory offer
SKU 00541
Product Details
A very, very special rod, characterized by the incredible coexistence of a super slim blank and an explosive power.
Development of Hidrogen surf , still available at lower cost ( see rod review)
As for the casting, it is clear that the drastic reduction of the blank's diameter results in a higher execution speed of the cast , because the rod cuts the air like a blade, undergoing a lower pressure.
But then reactivity is needed, and in this case we have really suceeded, both using the Super High Modulus CX2 Nano Tek carbon, and applying the innovative Twist Free technology, a direct antagonist of the torsion that influences the behavior of the rod immediately after the line's release.
With the amazing Fuji K Alconite rings, the line management is in safe hands, even if it is a braid , usually to be handled with silk gloves.
Beyond their Fuji quality, they are fixed by double wrappings to seal the spaces on both sides of the feet, a solution that today marks the best Trabucco surfcaster rods.
If we can talk about perfection in a 250 gram tool, we can say that we have achieved it, and we have also completed the job with an exciting cosmetic finish.
Take the Hydrogen to the beach just to show it?
Don't waste your time, please, this is a terrible fishing rod! ??
Review here from Graham Butler
So - After the video from the other day and some snapshots...A proper review of the Trabucco Hidrogen, as quite a lot of you have messaged me already.

First off do not be drawn to comparing this to the Tronix Viper - whilst the colours are the same these are very different sticks altogether. (Both nice - just very different)

This is a 425, 250g rated Trabucco CX2 Nano blank - so its pokey - a s with all Trabucco blanks however I always find them slightly more parabolic than many other brands (through action and easier to compress through the blank,to use words to explain what I mean, rather than 'parabolic'). This is a thin blank - 19mm and its light, I strapped on an Ultegra XSD - it felt OK - but balanced better for me with a Surfleader Ci4.

Its very well finished with K-Guide titanium fittings, some clever alignment stuff - a butt grip and reinforced spigots. Also liked the grips at each section - made taking it apart very easy.

So how does it fish ?

I fished it in 2 ways I was looking for cod and bass so fished an oversize dropper through the night 40lb 6ft rig body, 20 fluro snoods into 2/0 mantas - fishing 3/4/5oz.

Single large blacklug & squid strip (not Hippo feeding bait size; think throwing a small herring to a seal, If hippo bait is 3 whole black lug and an ammo squid whipped together...

It casts the former with ease - its bloody user friendly is this... compresses well and snaps back easy. 25 whiplash into 40 braid leader

Fished it in the morning much lighter - 15 whiplash, 30lb leader 3/4 oz - fishing long light clipped downs and long loops.

Bite detection on this rod is great - its a tippy hybrid after all - a 1lb bream rattle was shark esque on the braid - you wont miss many bites with this !

What do I think overall ???

I was fishing my Nuvolos at the same time - its very different - just feels like a tight, light 'little nimble stick; that you can throw around - the Nuvolos always feel a bit more robust and cumbersome, bit like like a big brother dropping you off at the cinema with your girlfriend aged 17.... just a bit clumsy...
Its not dissimilar to my Raycasts - but they are less through action and do smash the lightest of worm baits.... (they are more like your cool mate dropping you off, after his parents bought him a car)

I have a confessed love for hybrids anyhow as you know - if Veret made a Nuvolo blank (power wise), with a hybrid tip, I'd buy it - I haven't fished the Eclissio yet but this might be closer to what I'm describing - but sometimes I need to strap 5/6oz on a hybrid and belt it... and do that with total confidence.... I can 'cast it' on all my rods - but the nuvolo always feels like it has much more to give past that.... My other hybrids are starting to shout at me a little....

'GB, please take the transit off the lead clip'.

Back to the Trabucco - what do I think....

This would go in my bag - probably at the expense of the Raycasts - quite a statement as they are some stick - but I'm thinking value and usability - the Cinnetics go £600 - this Trabucco you can pick up for £350 and the K's help in the UK - Ok its a little more through action - but this helps..... the power is through the blank (if you bend more than the top section).... Some wont like this and will say 'its soft'..... go buy a T1000 would be my response - I don't need to haul a transit full of heavy cats through a scarey forest of kelp on this - I wanna enjoy my fishing thank you Mr Winch.


Thanks to Bill Morris for the lend - and John Humphrey for the coffee.
Save this product for later