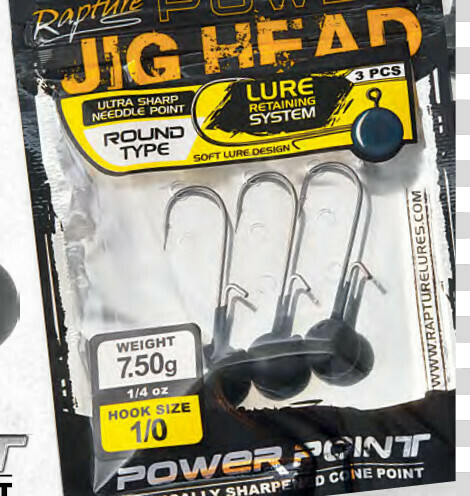 Jig heads with Lure retaining system
SKU 00638
Product Details
Round type Lure heads with a great system for retaing your soft plastics
Hooks are thin and sharp power point .
Perfect for jigging wrecking and soft lures for Pike and Zander
Great range of sizes available so please ask if not seen to be available
Rapture says
Our Round-head lead jigs are great for use with
all soft plastic lures and they can give you superior
results if used with Rapture Tournament or
Live Action Lures. Hooks shank are provided of
metal pin that will hold the soft bait into position
without break it. The standard 90° eye is perfect for
vertical jigging and many other applications. Use
them as they are or custom paint them with the
colours you think will give you an advantage. The
weight of the Power Jig Heads is marked in the lead
so it will last forever.
Low postal cost for direct orders
Save this product for later