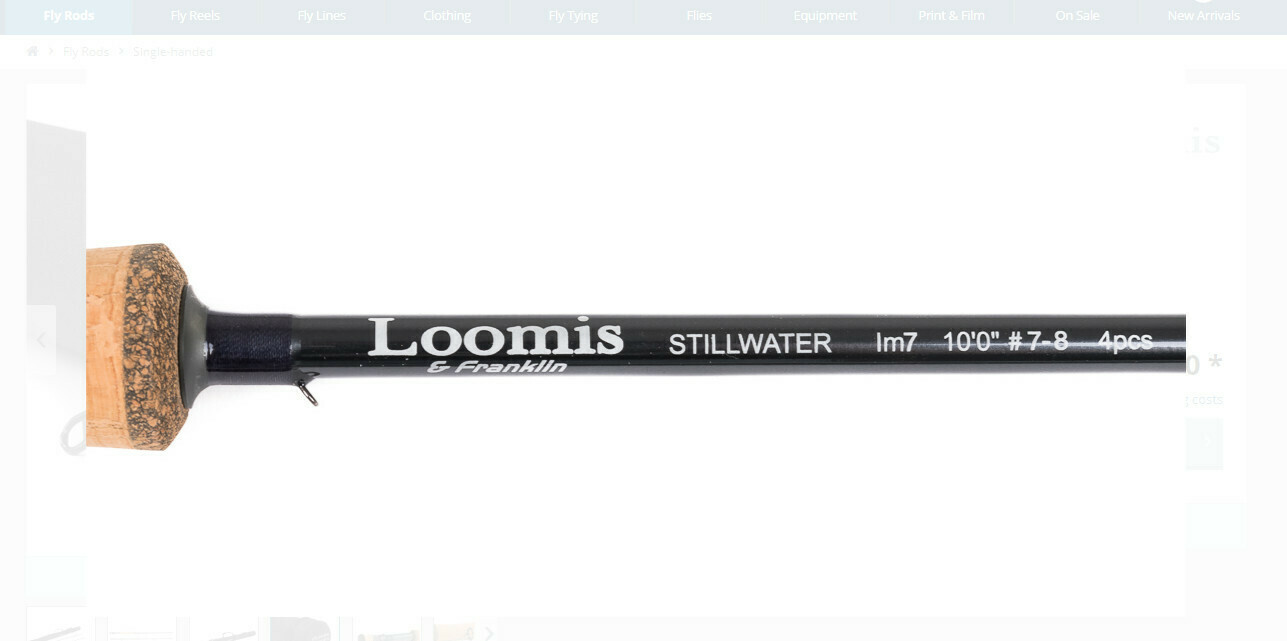 LOOMIS AND FRANKLIN STILLWATER 7/8 IM7 10FT AND 10FT 6
SKU 00665
Product Details
Loomis & Franklin IM7 Stillwater Single-Handed Fly Rod
Fly rods from the Italian company, Loomis & Franklin, are developed in close collaboration with Soldarini Fly Tackle and Sandro Soldarini. These are modern carbon fiber rods, which have a convincing price-performance ratio and very solid workmanship. With models for all major styles of fishing, Loomis & Franklin offers a budget-conscious entry into the world of fly fishing or a reliable back-up for advanced anglers - without breaking the bank.
The IM7 Stillwater series was designed from years of experience of fly fishermen dedicated to demanding Stillwater fisheries. When fishing from the shore at large lakes and dams, there are often enormous casting distances to reach the cautious, larger fish. Therefore, the Stillwater rods were made longer than conventional fly rods. Thanks to their length, you can on the one hand move your line further from the ground and, on the other hand, keep larger amounts of line in the air. Ideally, you combine these rods with shooting heads or heavy, weight forward lines to exploit the full potential of the powerful blanks.
Whether you're fishing streamers on the Sinktip, with Chironomids on long leaders or with small Mayflies on the surface: If you like fishing for strong trout on lakes, then the Stillwater Competition by Loomis & Franklin is a cost-effective solution for you. These special rods, which are tested from A to Z on their practicality are characterized by a clean design and a great price-performance ratio. The high-quality IM12 carbon fiber offers tremendous power and the fast, progressive action allows long casting- even in high winds. Other features of the IM7 Stillwater series include an aluminum reel seat and a quality cork, full-wells grip with fighting butt. All rods are delivered in a Cordura rod tube with sheath.
The IM7 Stillwater series is simply not an all-around rod. However, they receive a clear recommendation from us for their specific application on the lake!
Details:
Powerful rods for open waters and lakes
Medium speed action with fast recovery speed
IM7 carbon fiber blank
4-piece construction
Slim chrome guides
Aluminum reel seat
Delivered in Cordura rod tube with rod sock
Save this product for later