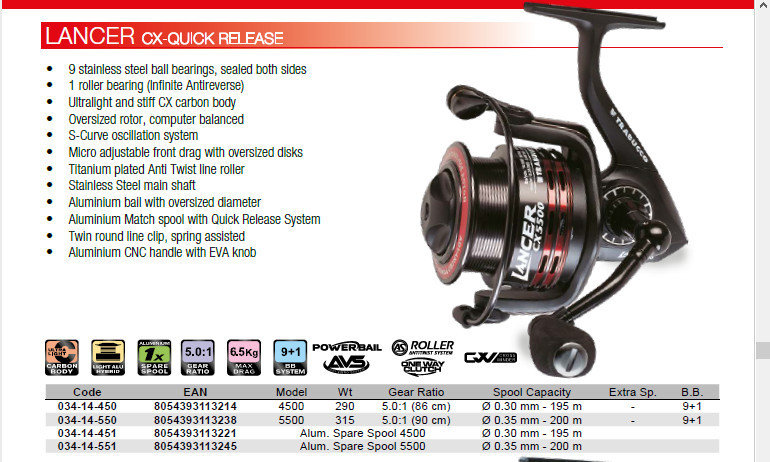 Lancer CX quick release feeder reel
SKU 00548
Product Details
LANCER CX-QUICK RELEASE
It is an evolution of the Lancer HS, series: kissed by success in the fields of fishing and feeder fishing, which takes the connoted more important, the large spool that allows you to perform recovery records.
But is the spool the same to be put in the field, the innovations, with a front button quick release that makes changing (QR = Quick Release Spool) and with the dual clip fermafilo, round, cushioned, and with a handkerchief and protective, which prevents the line from coming into contact with the metal of the spool.
The presence of the second line clips is very much appreciated by feeder fishing fans because it allows them to be precise on two fishing lines.
Fantastic the look "total black", which involves the bail arm , and with the crank became even more aggressive and sporty from the refined profile in red.
9 ball bearings of stainless steel, sealed on both sides
1 roller bearing (Backstop infinity)
Body ultra-light and stiff carbon CX
Rotor oversized and balanced to the computer
Oscillation system S-Curve
Clutch micro-adjustable disc oversized
Roll the wire guide Anti-Twist Titanium-coated
Stainless steel shaft
The bow section aluminium plus
Coil Match aluminium with quick release button Quick Release Spool)
Dual clip fermafilo round and cushioned
Crank machined in aluminium with knob in EVE
stainless steel ball bearings, sealed both sides
• 1 roller bearing (Infinite Antireverse)
• Ultralight and stiff CX carbon body
• Oversized rotor, computer balanced
• S-Curve oscillation system
• Micro adjustable front drag with oversized disks
• Titanium plated Anti Twist line roller
• Stainless Steel main shaft
• Aluminium bail with oversized diameter
• Aluminium Match spool with Quick Release System
• Twin round line clip, spring assisted
• Aluminium CNC handle with EVA knob
034-14-450 8054393113214 4500 290 5.0:1 (86 cm) Ø 0.30 mm - 195 m - 9+1
034-14-550 8054393113238 5500 315 5.0:1 (90 cm) Ø 0.35 mm - 200 m - 9+1
034-14-451 8054393113221 Alum. Spare Spool 4500 Ø 0.30 mm - 195 m
034-14-551 8054393113245 Alum. Spare Spool 5500 Ø 0.35 mm - 200 m
Save this product for later