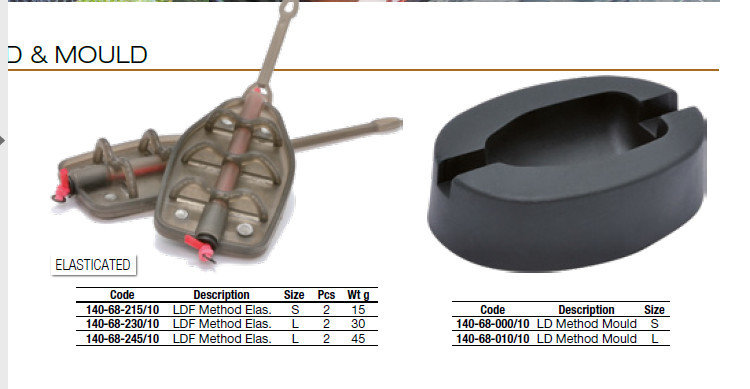 Long distance elasticated method feeders and feeder moulds to suit 15g
SKU 00579
Product Details
Available in the Inline or Elasticated version. The Inline is equipped with a swivel for self
strike rigging or for sliding rigging, used in combination with a Fast Change Bead. The
Elasticated version allows you to use much thinner hook lengths.
For both the versions the flat bed grants a strong grip on the bottom, while the peculiar ribbed design keeps the
groundbait right in position.
Price is for two feeders 15g and mould to suit
Put some pre-damped ground bait into the mould
and position the hook with the bait in the centre.
Fill the mould with the rest of the ground bait,
taking care to cover the hook with the bait.
When the feeder will lay on the bottom the bait
will be positioned over the ground bait, that will
start its attractive action.
When the ground bait will dissolve it will cover
the whole feeder, while the bait will be ready to
be swallowed by the fish.
Carefully position the Method Feeder in centre of
the mould and press firmly.
Press the bottom part of the mould
Save this product for later