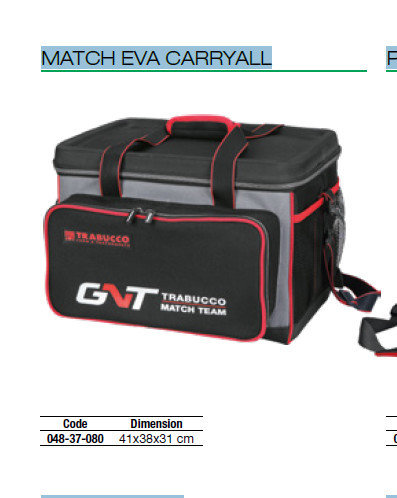 Match Eva Carry All Rigid top and sides 41x38x31 cm
SKU 00596
Product Details
Brilliant range of Match rod carry alls and luggage
Match EVA Carry All with side pocket and two net corner pockets
Comes with for rigid corner supports to be fitted to give rigidity.
Soft sided inside.
048-37-080 41x38x31 cm
With hard lid
Foam handles adjustable
strap
ACCESSORIES LUGGAGE
The range of bags and rod holdalls called
"Match Team", is the most technically advanced
that exists in today's market - designed to carry
all the necessary equipment on long fishing trips.
In particular, this range is dedicated to all those who devote themselves entirely to fishing
contests and to those for who fishing is a hobby.
Save this product for later