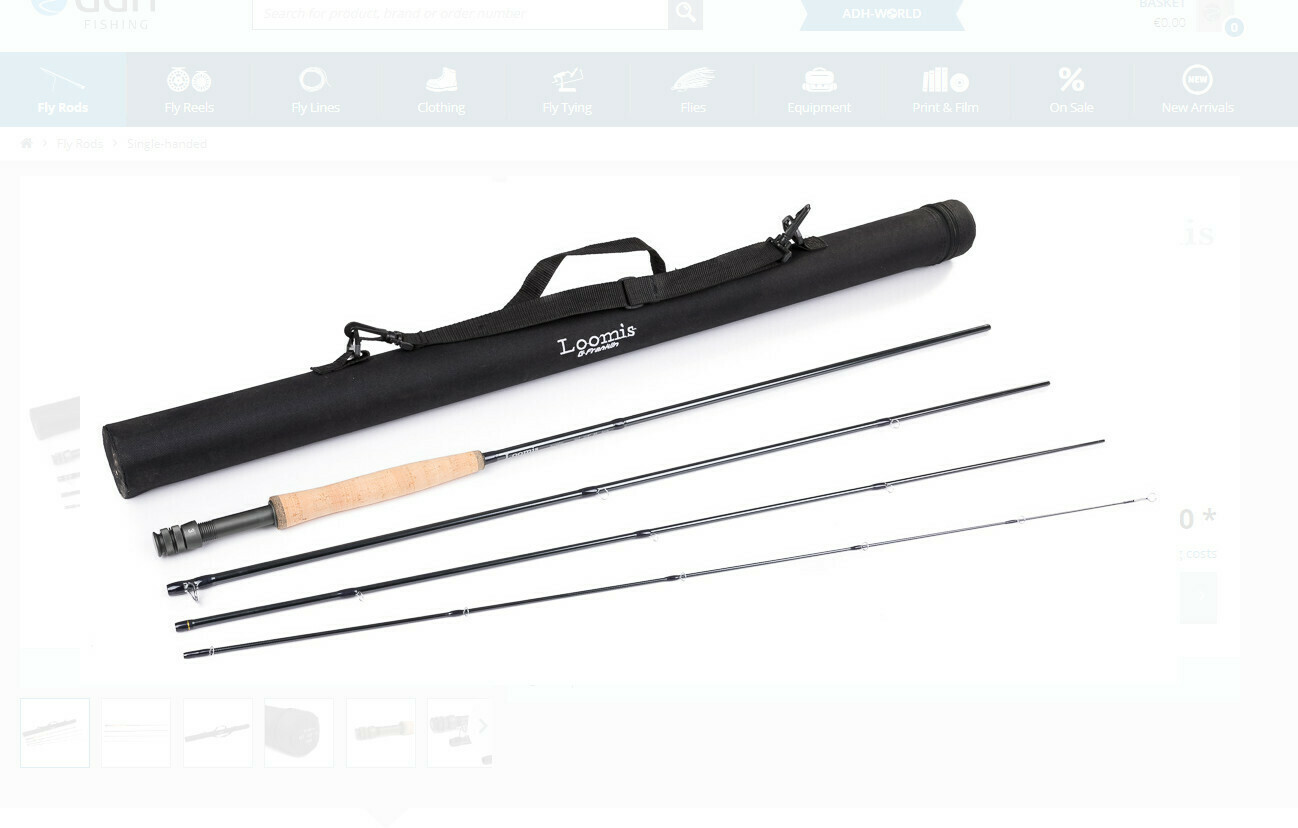 New 2018 IM12 Nymph Rods by SFT Loomis & Franklin.
SKU 00502
Product Details
New for spring 2018 the IM12 range has been especially developed on the back of feedback from the success of the last two years.
Speciality Nymph rods sometimes require for french leader fishing blanks that are more reactive and recover faster.
This enables a smoother casting style and quicker reactions to takes.
The popular sizes are covered , 10 foot on a 2 3 and 4 weight together with a 2/3 weight on a 10 foot 6. A real specialist's tool
Loomis & Franklin IM12 Nymph Single-Handed Fly Rod
Fly rods from the Italian company, Loomis & Franklin, are developed in close collaboration with Soldarini Fly Tackle and Sandro Soldarini. These are modern carbon fiber rods, which have a convincing price-performance ratio and very solid workmanship. With models for all major styles of fishing, Loomis & Franklin offers a budget-conscious entry into the world of fly fishing or a reliable back-up for advanced anglers - without breaking the bank.
The Loomis & Franklin IM12 Nymph single-handed rods provide a cost-effective entry into the exciting world of modern nymph fishing ('Euro Nymphing', 'French Nymphing', 'Czech Nymphing').
The longer, slim blank allows optimized drifts and bite detection in tight line nymphing. The soft tip also assists by reliably transporting even the most gentle takes, down the blank to the index finger.
The filigree guide rings are mounted to minimize line sag, ensuring your hook sets are efficient as possible and soft bites are easily detected. Other features of the Nymph rods by Loomis & Franklin include an aluminum reel seat and a thin handle of premium cork. All rods are delivered in a Cordura rod tube with sheath.
The Loomis & Franklin Nymph series is not just a rod with an attractive price, but a rod with very practical performance. If you are looking for a low-cost nymph rod for use on streams and rivers, then we highly recommend the IM12 Nymph. While the 11 ft. long models should only be used for sensitive nymph fishing, the shorter 9.6 ft. rods are also great for fishing traditional fly lines and dry flies.
Details:
Lightweight rods for modern nymphing techniques
Medium-fast action for delicate presentation
Soft tip for strike detection
IM12 carbon fiber blank
4-piece construction
Slim chrome guides
Aluminum reel seat
Delivered in a Cordura rod tube with rod sock
Hand designed in Italy for European waters by Sandro Soldarini these Nymph rods are the best there is in the market for 2018
Save this product for later