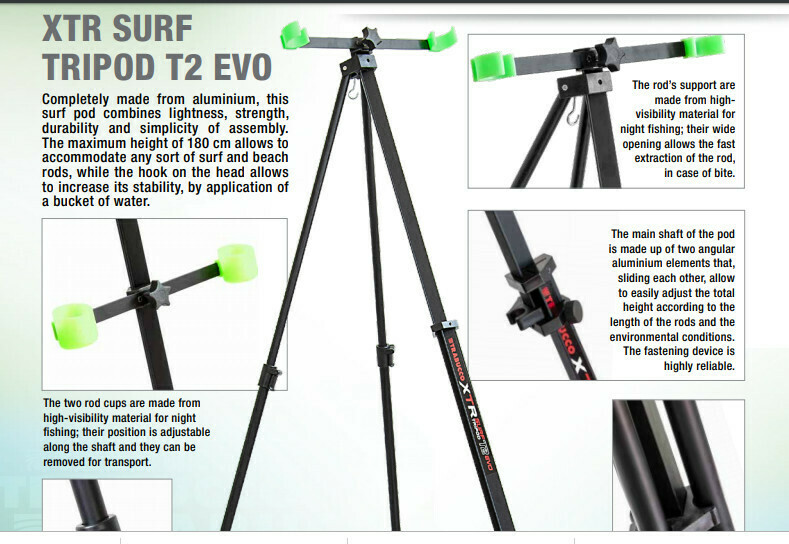 New XTR surf sandpod and Tripods very light and strong 3 versions available from £11.99
SKU 00641
Product Details
88-65-950 XTR SURF * SANDPOD 150
088-65-910 XTR SURF TRIPOD * T2 EVO foldable legs
088-65-920 XTR SURF TRIPOD * T2 fixed legs
New 2020 versions in matt black finish
XTR SURF
TRIPOD T2 EVO
XTR SURF TRIPOD T2EVO 088-65-910
Completely made from aluminium, this
surf pod combines lightness, strength,
durability and simplicity of assembly.
The maximum height of 180 cm allows to
accommodate any sort of surf and beach
rods, while the hook on the head allows
to increase its stability, by application of
a bucket of water.
The two rod cups are made from high-visibility material for night fishing; their position is adjustable along the shaft and they can be removed for transport
Thanks to the lever device, the front legs are easily adjustable in length, even at low temperature
The rod's support are made from highvisibility material for night fishing; their wide opening allows the fast extraction of the rod,

The main shaft of the pod is made up of two angular aluminium elements that, sliding each other, allow to easily adjust the total height according to the length of the rods and the environmental conditions. The fastening device is highly reliable.
Practical rubber clips to fasten legs during transport

Strong aluminium shaft, painted in black
Top grip designed with wind proof arms, featuring three
slots for nightlight sticks Two slots for 3 mm night light sticks. Slot for 4,5 mm night light stick.
Adjustable screw butt cup with hole for water drain
Sharp arrow point
XTR SURF TRIPOD T2 XTR SURF TRIPOD T2 088-65-920
Extremely light and easy to assemble, enabling you to get into fishing straight away, this rod pod easily finds space in the side pocket of any rod holdall. Its black painted aluminum structure consists of an angular shaft and two fixed length front legs, which are clip- ped to ease transport. Ideal for surfcasting, but also for feeder fishing in fast-flowing rivers, it is equipped with a hook on the head that allows the ap plication of a bucket of wa- ter, increasing its stability in case of strong wind.
The rod's support are made from high-visibility material for night fishing; their wide opening allows the fast extraction of the rod, in case of bites

Save this product for later