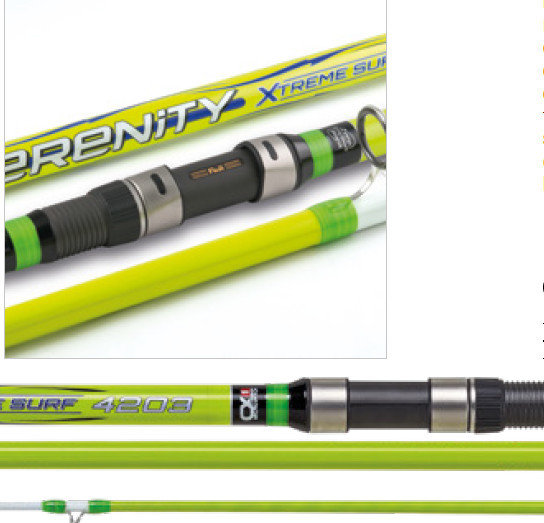 Serenity Xtreme Surf 420 /450 200g FUJI ALCONITE RINGS available now
SKU 00572
Product Details
SERENITY XTREME SURF
Designed for those who need a technical rod to be used in competitions with an extraordinary value for
money ratio, it is a concentrate of technology and performance, at same level of most top of the range
models. Made from S.H.M. carbon with a Micro Pitch technology with a low resin content for a fast action,
it develops an extraordinary reactivity, allowing you to reach considerable casting distances. This model
comes with double leg Fuji MN Alconite guides, whose frame is made from stainless steel; innovative
three-line joint alignment system (JTS) to ensure perfect assembly of sections; graphite Fuji DPS reel
seat with steel hoods that also accommodates large reels; sensitive solid carbon tip (Hybrid Tip), double
wrapped, on which a reflective paint has been applied; a brand new non-slip grip placed in the bottom
part of the handle.
171-98-200 4,20 145 3 200G
171-98-300 4,50 157 3 200G
this fantastic quick-action technical tool is suitable for racing, with an extraordinary price-performance ratio that is no match for the top-of-the-range models.
Made of carbon S.H.M. with Micro Pitch technology with a low incidence of resins, is able to develop an extraordinary reactivity during the casting phase, allowing to reach considerable distances.
This model has
-Fuji MN Alconite Rings Innovative
- JTS joints alignment system based on three lines to ensure perfect section assembly
-Fuji DPS reel seat in graphite and steel that allows you to accommodate even large reels
-Hybrid Tip hybrid tip very sensitive in solid carbon, fixed with double ligature on the joint to ensure maximum sealing, to which a reflective paint has been applied.
-Non-slip handle at the base of the handle.
Available in sizes of 4.30 and 4.50 m with casting of 200
Save this product for later