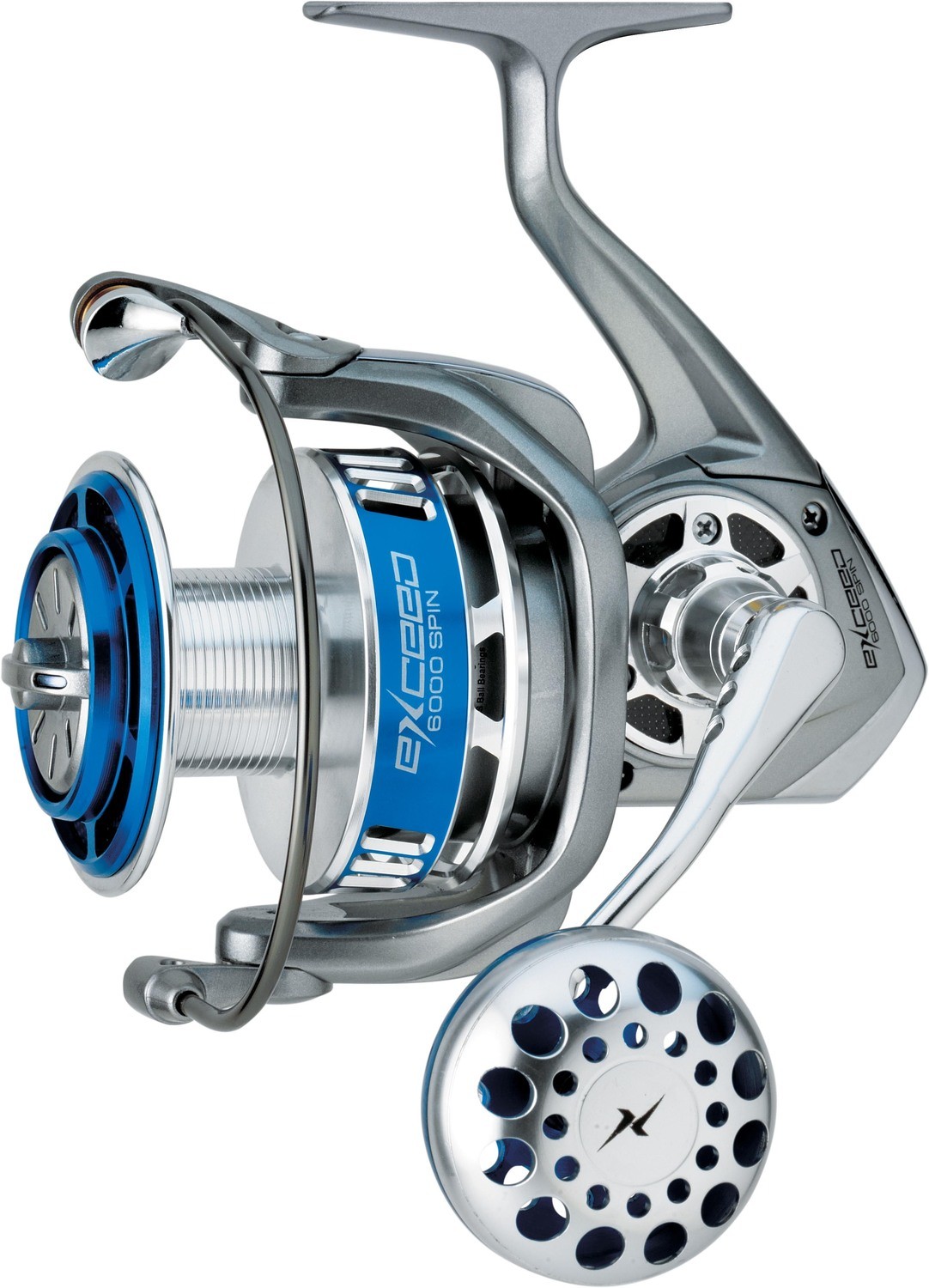 Trabucco Exceed 6000 spin Heavy duty saltwater reels
SKU 00035
Product Details
EXCEED SPIN
3500 size for tough salt water light tackle spinning
also SWAT . a lower cost version with the same gears
Rugged aluminum body reel, light
weight but as tough as iron, less than
500 gr for a 4000 size and still able to
spool up to 220 meters of 0.40 line.

Anti reverse is permanent with a recovery
stainless steel anti reverse pawl to
prevent accidents.
The fighting handle
is fully made of forged aluminum,
including the beautiful knob.
Drag is absolutely one of a kind and never seen
before on reels of the same category of
Exceed Salt Water Spin, featuring a 20kg
Max Drag. An absurd specification for
some people but an absolute need for
other, ambitious, people.
Premium specs also for the stainless steel gears, the
bronze pinion salt water protected and
the titanium line roller.
Line lay is perfect preventing digging for braided lines
and so avoiding dangerous situation
when fighting with a big fish.
Bailarm is hollow, strong, reliable and lighter than aluminium
DESTINATION SALT WATER
Evidently designed for salt water use, Exceed reels feature sealed body and drag,
10 shielded stainless steel bearings, one of them made of metaformaldeyde
supporting the titanium line roller. It is for sure the bearing the more exposed
to water and to heat generated by friction and so needed an extraordinary care
to choose the right material. Body features a special lubrication port designed
to lubricate gears. All metal parts have been treated against salt water and all
aluminum parts have been anodized to prevent corrosion. The anti reverse is
permanent for safety reasons and it is supported by a one way stainless steel roller
and a recovery stainless steel anti reverse pawl. 4.1:1 gear ratio gives the correct
fighting power to fight against the strongest salt water predators, such as bluefin
tuna and big GT. Exceed is the perfect reel for the heaviest spinning in Mediterranean
Sea, deep vertical jigging and popping into tropical oceans. Dedicated to
fanatics searching for strong excitement!

Every single part of an Exceed Salt Water Spin is functional
to extreme predators fishing.

FEATURES
Stainless Steel Drive gears, Pinion gear & Oscillation-Pinion gear
Max drag 30 Kg (66lb)
Gear box lubrication port / hole
Al-Si-Cu-Mg Aluminium alloy body / rotor / bail arm assembly
Manganese bronze alloy oscillation gear
Non reversible LARGE one-way bearing (permanent one-way)
Stainless steel backup anti reverse pawl
Positive-Screw-lock CNC handle & knob
Twin Ball bearing spool (for high speed drag runs)
Stainless steel and carbon textile drag washers, fine adjustment from full
release to full lock with super smooth all the way
Fully sealed Body & Drag (100% water proof reel)
No rust Polyester (Metaformaldehyde) Bearing line level pulley
Titanium Line roller
Solid 4mm bail wire
All Stainless steel alloy for all other metal components
10+1 Stainless steel shielded bearings
Gear ratio 4.1:1

032-68-600 6000 596 4.2:1 Ø 0.50mm-350m - 6+1 20kg drag
Save this product for later