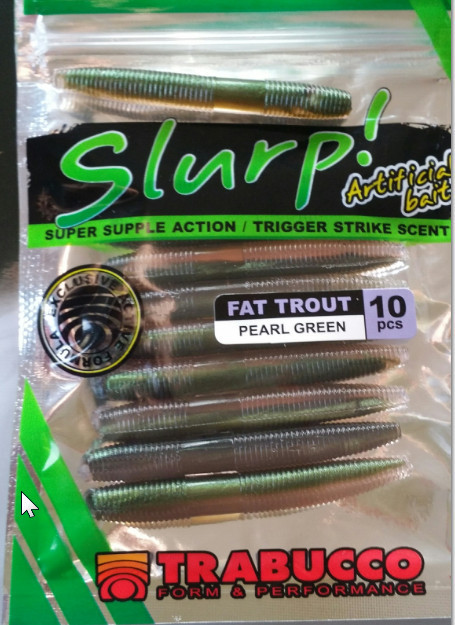 Trabucco Slurp Fat worm. Super micro senko for perch and zander 10 per pack 50mm
SKU 00393
Product Details
Fat Worm is a small compact worm that perfectly imitates the
live bait. It can be used in combination with other lures, fishing with drop shot , it can be used
rigged on a Rapture Jig Head as per a senko , to make it dance on
the bottom triggering the killer instinct of all trout species, including
the wild mountain brown ones, and finally it can be rigged wacky
without any weight, to get the super natural action of a worm falling through the
water. All Fat Worms are fish scented. When the trout will bite, it will never stop chewing
this lure ,
FAT TROUT WORM
Trabucco's Soft Lures are made of superior
quality material, soft but still durable. These
powerful scented lures are packed in a
preserving oil that will maintain their outstanding
performance. Every and each
Soft Lure has its own design which is specific
effective, tested and improved by our Pro
Team for long time before launching it in the market. We are committed to achieve details perfection and
absolute quality to get the best performance. Try them and you won't regret!
Save this product for later