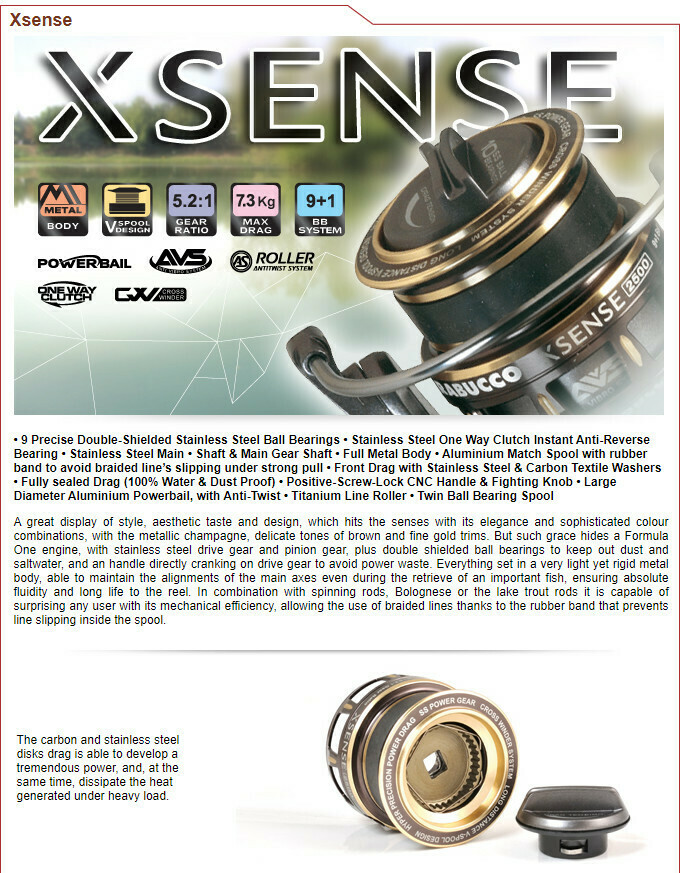 Trabucco X Sense 5000 hi tec Spinning Reel
SKU 00728
Product Details
9 Precise Double-Shielded Stainless Steel Ball Bearings •
Stainless Steel One Way Clutch Instant Anti-Reverse Bearing •
Stainless Steel Main •
Shaft & Main Gear Shaft •
Full Metal Body • Aluminium
Match Spool with rubber band to avoid braided line's slipping under strong pull •
Front Drag with Stainless Steel & Carbon Textile Washers •
Fully sealed Drag (100% Water & Dust Proof) • Positive-Screw-Lock CNC Handle & Fighting Knob •
Large Diameter Aluminium Powerbail, with Anti-Twist • Titanium Line Roller •
Twin Ball Bearing Spool
A great display of style, aesthetic taste and design, which hits the senses with its elegance and sophisticated colour combinations, with the metallic champagne, delicate tones of brown and fine gold trims.
But such grace hides a Formula One engine, with stainless steel drive gear and pinion gear, plus double shielded ball bearings to keep out dust and saltwater, and an handle directly cranking on drive gear to avoid power waste.
Everything set in a very light yet rigid metal body, able to maintain the alignments of the main axes even during the retrieve of an important fish, ensuring absolute fluidity and long life to the reel. In combination with spinning rods,
Use it for Bass capable of surprising any user with its mechanical efficiency, allowing the use of braided lines thanks to the rubber band that prevents line slipping inside the spool.
| | | | | | | | |
| --- | --- | --- | --- | --- | --- | --- | --- |
| 034-17-500 | 5000 | 340 | 5.2:1 (88 cm) | Ø 0.20 mm - 180 m | 10 kg | - | 9+1 |
Save this product for later