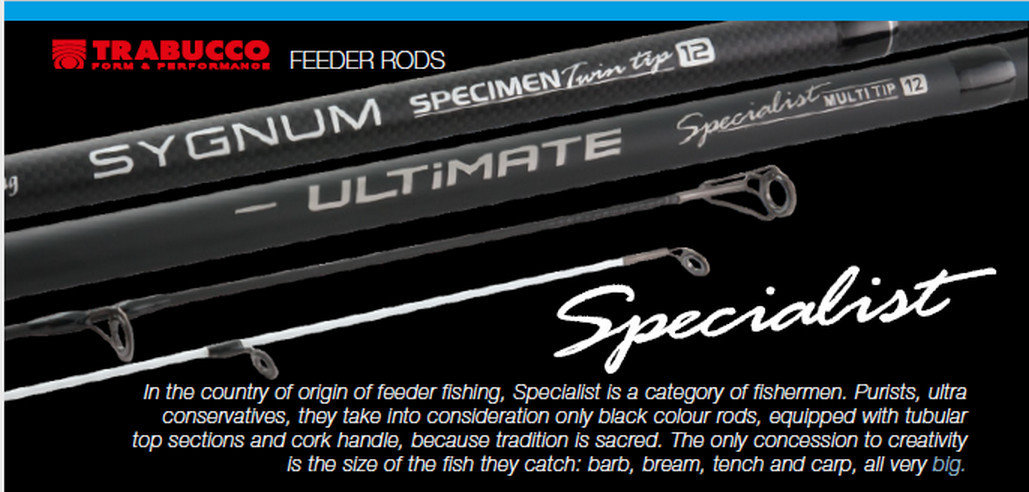 Ultimate specialist twin tip Barbel rod 12 ft 2.25 tc and 1.75 tc quiver tip sections
SKU 00589
Product Details
In the country of origin of feeder fishing, Specialist is a category of fishermen. Purists, ultra
conservatives, they take into consideration only black colour rods, equipped with tubular
top sections and cork handle, because tradition is sacred. The only concession to creativity
is the size of the fish they catch: barbel, bream, tench
The Ultimate Specialist has all the specifications that a Specialist Angler can demand
to his dream rod: from super slim blank to fast and powerful strike action,
from total control during fish fight stages to perfect twist resistance during loading
and retrieve. It comes with two different top section's outfits: an "avon" tubular
carbon top with 2.25 lbs test curve, perfect for specialist fishing for barbel, carp or
tench, and a "multi quiver" top with 1.75 lbs test curve, on which you can insert
2 Full Carbon tips of 3 and 5 ounces action. The body, built in two sections, is
made from Super High Modulus CX-1 carbon with Micro Pitch technology for a low
incidence of resins, which gives it strength and lightness; it comes with Sea Guide
SiC guides that quickly dissipate the heat generated by mono or braid friction.
The handle is in natural cork with steel and rubber DPS reel seat, which can also
accommodate big size reels.
Save this product for later