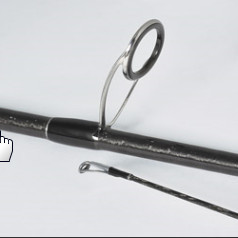 X Ray nano tech SX4 single piece ultra fast ML spinning rods 50% off
SKU 00384
Product Details
Super Top level one piece rods designed for competition
by the Rapture Team and Marco Iseppi. 6 models for spinning
and 4 models for casting, to cover all the needs of Italian
and European Bassmen
Every and each model has been independently designed for a single
technique or for two similar techniques. We took maniac care of every
and each detail to obtain one of the best rod for Pro Bass Anglers.
The blanks, sensitive and reactive, are super reliable, standing the
strongest stresses and strikes. To build them, Rapture in co operation
with Toray®, developed a special Carbon tissue named SX4 Carbon
Cloth – Nano Technology. This material is made of the purest high
modulus carbon fibres, bonded by the a small quantity of resins, and
molecularly woven to create a sort of wrapping tissue where fibres
are positioned at 45° and 135°. This peculiar positioning at given angles
is able to distribute the stress and loads along the whole surface
of the blank, making the rod strongest than ever. The high grade EVA
handle is split, to reduce the already small weight of the blank and make it super balanced.
Guides are prime grade SiC and can be used with braided lines.
Save this product for later