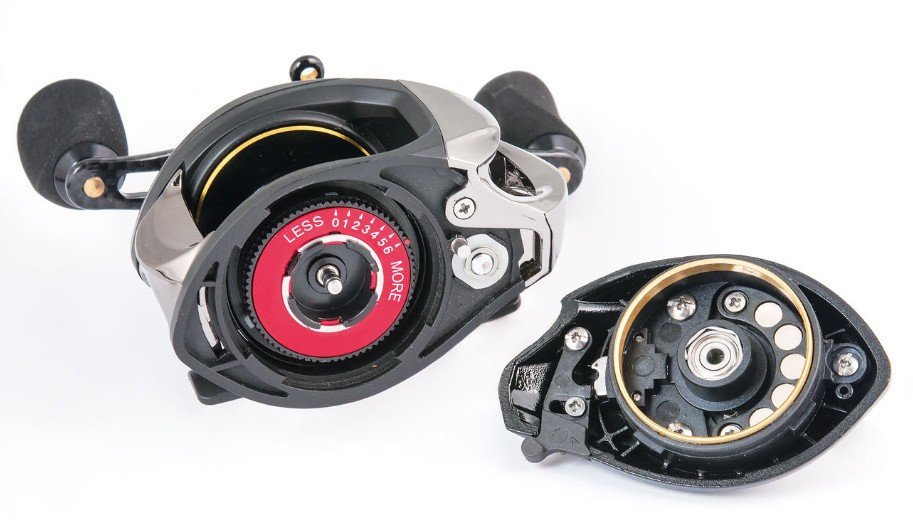 X ray LTE and SPL baitcasters with easy cast system.
SKU 00452
Product Details
The brand new X-Ray reeks represent a major step forward in the low profile baitcasting reel development.
X-ray are packed full features and performance that serious anglers will appreciate, at the top of them stand out the Easy Cast system, a brand new hybrid braking system to fine tune and control the spool rotation speed during cast. Easy Cast not only reduces tangles but it increases dramatically distances and cast accuracy. X-Ray LTE and X-Ray SPL are produced with the latest technologies and the highest quality materials, designed designed using the latest CAD software, the two models feature different gear ratio thus to cope with different uses and fishing techniques, both in fresh and saltwater. The body and the gears are able to withstand heavy loads, wear and external agents, delivering unprecedented smooth performance in ultra-lightweight reel. The fight drag runs on oversized carbon cloth washers, able to deliver high drag pressure to tame even the strongest fighters. X-Ray reels have everything you need to maximize your fishing potential! The X-Ray LTE and SPL do not differ only for the gear ratio speed, but they're built with different gear materials, all of excellent quality to highlight their own features and to suit the fishing styles they're designed for. X-Ray LTE uses the precision and lightness of gears built in Aircraft-Grade Hardened Aluminium, perfect to achieve an ultra-smooth and precise rotation also to the low rotations speed. Instead SPL gets the best under big loads and for speed fishing styles, gears are built using the Hyper-Strength Brass delivering an outstanding precision and durability. Easy Cast technology is a massive breakthrough in reels development, developed using an hybrid braking system combining a 6-way magnetic brake to a 6-way centrifugal brake, to deliver a whopping 36 drag combination to allow anglers fine-tuning and drastically reduce the "backlash" effect. The centrifugal brake acts positively in the initial stages of the cast, when the high rotation speed releases a greater centrifugal force, thus to allow a smooth releases of energy. While the externally adjustable magnetic cast control system allows for fine adjustment on the waater and it works in a complementary way, by adjusting the spool rotation just in the final stages, when centrifugal forces are lesser due to the friction and allowing a more accurate and precise placing. Easy Cast System do not reduce only the tangles when casting, but thanks to a better friction control is able to deliver longer and more accurate casts!
| CODE | FLY LINE | Ø | WEIGHT | LINE CAPACITY | BALL BEARING |
| --- | --- | --- | --- | --- | --- |
| 031-85-600 | X-RAY LTE | 198 g | 6,3:1 | 0,35-80 m | 9+1 |
| 031-85-700 | X-RAY SPL | 212 g | 7,2:1 | 0,35-80 m | 9+1 |
Save this product for later