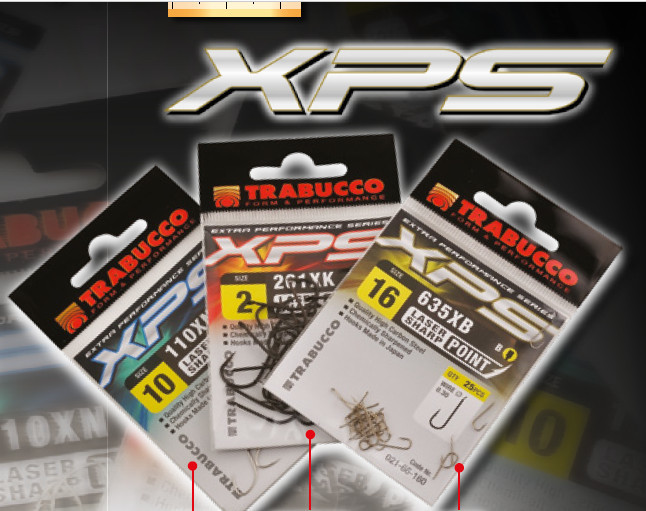 XPS Match specialist hook 701 XK Barb less 25 per pack. spade eye post free
SKU 00616
Product Details
701XK by Trabucco
25 per pack
Match specialist hook
barbless
More and more match anglers now understand the great advantages of barbless hooks,
which really can improve catch rates not only with the pole, but also with bolo, match and
even feeder rods. All the words spent by experts, journalists and match winners about
natural presentation immediately come into reality when somebody tries hooks like this
. Both living baits and fighting fish are held by hook's ankle, a vital part
of the design because all stress and hooking power get through it. Problems greatly solved
by a slightly forged curve and turned in point
INNOVATIVE PACKAGING
Extra Performance Series is the name of Trabucco quality
hooks developed for top match anglers, which now gets much
wider also touching different segments such as feeder fishing,
commercial carping, trout fishing, light drifting and beach
ledgering.
In line with existing series, also the new ones display "extra
performance", because the extreme quality is not only achieved
with the development of new shapes, but also through the
employed materials, the finish and functional details. The
strength/lightness ratio has been tailored size by size, taking
advantage of the special hi-carbon content steel, which is only
available in Japan, where these fantastic hooks are produced
under strict quality control. All points are chemically sharpened,
then further finished by laser to get absolute perfection and
durability.
The new bags contain 25 hooks to keep the individual
price as low as possible. Their design has been cared
in every detail, with upper part of the card changing
main colour according to hook's finish, while the lower
portion is almost free from decorations to allow the best
possible visibility of the product inside. In order to enable
the consumer to quickly identify the hook's shape, it has
been printed in a dedicated cell. For the first time ever,
also wire diameter is indicated on each bag,
so that the user can evaluate the strength
level, maybe making comparisons between
different series.
Save this product for later